Sleep Apnea – Treatment Options
CPAP Alternative in Southfield
Dr. Bogrow is a Diplomate and Certified Member of the American Academy of Dental Sleep Medicine (D-ABDSM). His advanced training enables him to deliver exceptional treatment for patients who have problems associated with snoring and obstructive sleep apnea.
What is CPAP?
Oftentimes, the first solution prescribed to sleep apnea patients is a Continuous Positive Airway Pressure (CPAP) device. A CPAP machine uses a constant flow of air connected to a mask worn by the patient while they sleep. The air pressure prevents your airway from collapsing.
What are the Alternatives to CPAP?
While CPAP therapy is effective for many patients, it is not always the ideal treatment. Common complaints from CPAP users include having trouble wearing the mask throughout the night and waking up with a dry throat. The great news is that there are a wide variety of CPAP alternatives for our patients in Southfield. Outside of surgical options, there are a number of oral appliances we can use to restore your rest.
Sleep Apnea Oral Appliances
We understand that every patient is different and requires a unique approach to treatment. For patients that have a hard time with CPAP therapy, we have a range of oral appliances to treat snoring and sleep apnea.
What is an Oral Appliance?
An oral appliance is a custom-made dental device worn during the night. There are many different designs, but they all are designed to open your airway to prevent snoring and sleep apnea. Let's explore several of the oral appliance options we provide at the Dental Center For Sleep Apnea & Snoring.
SomnoDent®
SomnoDent® is a custom-made device worn during sleep to increase the upper airway volume and reduce collapsibility. SomnoDent® Flex and Classic devices each utilize a unique patented fin-coupling component, maximizing patient comfort and compliance. This device is clinically proven to result in successful treatment for patients suffering from sleep apnea.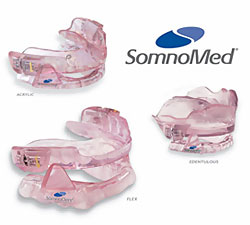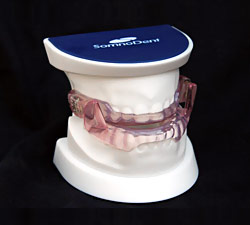 The SUAD™ Device
We offer the SUAD™ Device, a premium dental sleep appliance developed for the treatment of snoring and obstructive sleep apnea. This device is an alternative to CPAP therapy or surgery and offers a comfortable solution to help you achieve a good night's sleep.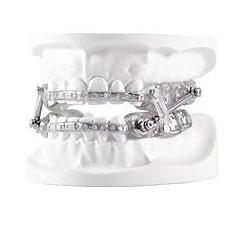 The Narval™
Narval™ CC is ResMed's premier oral appliance. As one of the lightest oral appliances available, Narval CC is designed to be discreet, comfortable, and effective. It is crafted from a lightweight, flexible, and metal-free biocompatible material.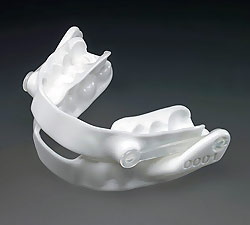 The EMA
The EMA oral appliance from Myerson increases airway space by advancing the lower jaw using interchangeable elastic straps. EMA elastic straps come in 9 different lengths and 4 different strengths. The shorter the EMA elastic strap, the farther the lower jaw is advanced. 36 different straps allow for the most effective repositioning with maximum comfort.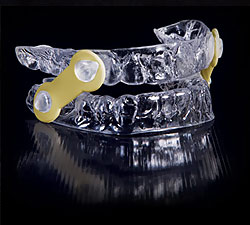 The Tap 3
The TAP 3 TL uses a hook mechanism attached to the upper tray that fits into a socket attached to the lower tray. It positions the lower jaw forward, allowing for a greater range of lateral movement than previous designs. The TAP 3 Elite features a simple hook mechanism attached to the upper tray that slides under a bar attached to the lower tray and positions the lower jaw forward.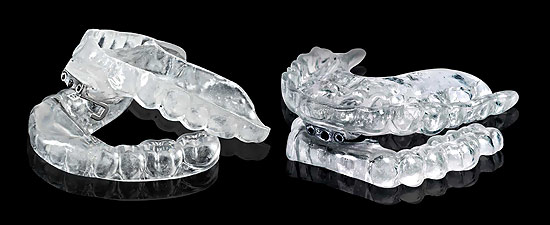 ProSomnus® Sleep and Snore Devices
Metal-free devices (ProSomnus IA, ProSomnus IA Select, ProSomnus MicrO2®)
Smoother surface
Up to 22% stronger, and less bulky with 30% less overall volume
Protects airway more effectively
Reduced mouth opening required
Better tasting with less likelihood of allergic reactions (now made with 3.6x fewer monomers and methyl methacrylate)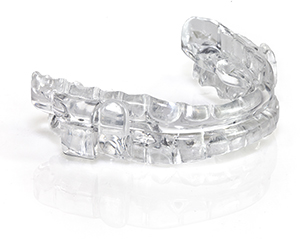 The Path to a Better Night's Rest
Dr. Bogrow is delighted to answer any questions you have about our effective and comfortable CPAP alternatives. We'll work with you to find the treatment option that restores your rest and gives you the energy you need to do all the things you love. For professional, quality care built around your needs, schedule your consultation with Bogrow & Associates today.
For Free Sleep Apnea Assessment
Call 248-827-1144
or request an appointment online